I've just discovered Microsoft Powertools and it's really cool. I can now map common shortcuts from the Mac to their Windows alternatives, as well as a nice Alfred-like experience! No more getting lost with Ctrl/Command!
💻 Progress on a small side project of mine. A GUI for Espanso (A cool text expander app that reads a YAML config file). SwiftUI has made this mostly a breeze to build.
💻 You can now make fully fledged iOS apps on an iPad. How mad is that?!
Marvel Champions! After three plays we finally beat the introductory game!
About two months ago I opened Twitter to find a modal message announcing to me that my account had been suspended. I initially thought, that's strange? Is this a bug? What could I possibly have done wrong? Twitter didn't feel it was necessary to give me any details. I was in the dark.
I waited a few weeks. Naively thinking this issue would resolve itself—that it was just a mistake. I could still view tweets from people—although depending on which Twitter client I used I sometimes only saw the last tweets before my suspension took place.
Here are some of other things I've noticed about being suspended:
You cannot download your data.
The suspension modal will popup almost randomly when browing the site.
Notifications will stick. If someone tags you in a tweet (which is still possible) you'll be stuck with this notification forever.
Follower and Following counts reset to zero.
Finally, I caved in and contacted Twitter support. According to their support website it would take 1-2 weeks for a response. I waited patiently. After three weeks I touched base as I thought my ticket was taking quite long to get a response. It was an additional 4 weeks before I finally received one.
Hello,

We're writing to let you know that your account has been suspended—and will remain suspended—due to multiple or severe violations of our platform manipulation rules.

Please do not reply to this message as this email address is not monitored.

Thanks, Twitter
My heart sank a little. will remain suspended. severe violations. I've had this account for close to 10 years and there's a lot of history and contacts that I no longer have access to.
After reading the platform manipulation rules I tried to put together what I had done wrong.
I believe because I retweet my side project's tweets this must count as platform manipulation. To be honest, the thought of retweeting my other account as being against the ToS had not occurred to me. I only have myself to blame for not knowing this so I'm not angry about it. I do wish there was a warning system in place rather than going straight to permanent suspension, though.
My social media moving forward
Reflecting on this experience I think it's more important than ever to control my data. Not just on Twitter but on all social media. Twitter, Facebook, Instagram, etc should be a tool to share thoughts and experiences but not the soul source of them.
I have created a new Twitter account (@mitchartemis_v2) but I plan to be more purposeful with this one—to link to my own platforms, be it this blog or others.
Then there's Mastodon which I want to use more of instead of Twitter. I currently have accounts on multiple Mastodon instances and to be honest, I'm not sure whether I should be focusing on using one account or sharing posts on individual nodes related to each of my interests. For example, posting my photography on photography.social, and my programming stuff on ruby.social. Unfortunately I feel this quandary is preventing me from posting anything at all.
That's it for now. Just remember social media platforms control what happens with your data. If that data is important to you then make sure to have a back-up.
I tend to log most of the stuff that I read, play, and watch. So heres this years list!
Although not everything in this list came out this year, there has still been a lot of great content created this year. Some that I'd like to highlight are:
[TV Series] Chernobyl An absolute fantastic mini series which gives us a glimpse into what happened in the Chernobyl disaster.
[TV Series/Book Series] The Last Kingdom I love both the books and the TV series so I'm happy to see both get new content this year.
[Video Game] World of Warcraft Classic I'm having a lot of fun with Kat replaying one of my favourite games.
[TV Series] The Morning Show Despite its early criticism I really enjoyed this series.
[TV Series] Gentleman Jack Another small series from HBO/BBC.
[TV Series] Stranger Things This latest season has been on par with the first which was excellent.
[FIlm] Knives Out This may stand out as it came out pretty recently, but I really enjoyed in non the less.
[TV Series] Derry Girls An excellent comedy that continues to make me laugh.
See the full list of content in the full below. Here's to a great 2020!
Books
The Humans by Matt Haig
Morning Star (Red Rising 3) by Pierce Brown
The Wall by John Lanchester
The Last Kingdom (Saxon Stories 1) by Bernard Cornwell
Furies of Calderon (Codex Alera 1) by Jim Butcher
The Pale Horseman (Saxon Stories 2) by Bernard Cornwell
Academ's Fury (Codex Alera 2) by Jim Butcher
Iron Gold by Pierce Brown
Six of Crows by Leigh Bardugo

Crooked Kingdom (Six of Crows 2) by Leigh Bardugo

Audio Books

Lethal White (Cormoran Strike 4) by Robert Galbraith

Circe by Madeline Miller

Norse Mythology by Neil Gaiman

Mythos by Stephen Fry

The Calculating Stars (Lady Astronaut 1) by Mary Robinette Kowal

The Fated Sky (Lady Astronaut 2) by Mary Robinette Kowal

Heroes by Stephen Fry

Lords of the North (Saxon Stories 3) by Bernard Cornwell

Sword Song (Saxon Stories 4) by Bernard Cornwell

Altered Carbon by Richard Morgan

Non-Fiction

Practical Vim

SwiftUI by Tutorials

Fujifilm x-t30 user manual

SwiftUI by Example

Web Development with ReasonML

Small, Sharp Software Tools

The Little Ecto Cookbook

Programming Crystal

Seven Databases in Seven Weeks

Television

Vikings (Latest Season / Unfinished)

The Marvelous Ms. Maisel (Latest Season / Unfinished)

This is Us (Latest Season / Unfinished)

The Crown (Latest Season / Unfinished)

See (Unfinished)

30 Rock (Rewatch)

Stumptown (Unfinished)

His Dark Materials (Unfinished)

The Good Place (Latest Season / Unfinished)

Mr. Robot (Latest Season / Unfinished)

It's Always Sunny In Philadelphia (Latest Season / Unfinished)

Mindhunter (Latest Season)

Watchmen (Dropped)

13 Reasons Why (Latest Season / Unfinished)

Atlanta (Latest Season)

Castle Rock (Dropped)

Parks and Recreation (Rewatch)

The Rain

The Morning Show

The Apprentice

Jack Ryan (Latest Season)

Dickinson (Unfinished)

The War of the Worlds

Modern Love

Carnival Row

Sanditon

Silicon Valley (S1-S5)

Dark

The Rain

The Boys

Gentleman Jack

The Spanish Princess

Peaky Blinders

Glow

The Handmaid's Tale (Latest Season)

Killing Eve

Stanger Things (Latest Season)

Dead to Me

The Tudors

Big Little Lies (Latest Season)

The Planets

Good Omens

Frasier (Rewatch)

True Detective (Latest Season)

Chernobyl

Chilling Adventures of Sabrina (Latest Season)

Game of Thrones (Latest Season)

Crazy Ex Girlfriend (Latest Season)

OA (Latest Season)

Line of Duty (Latest Season)

Derry Girls

Victoria (Latest Season)

Deutschland 83 (Latest Season)

Death in Paradise (Latest Season)

The Umbrella Academy

The Last Kingdom (Latest Season)

A Series of Unfortunate Events (Latest Season)

Anime

Dr. Stone

My Hero Academia (Latest Season)

Demon Slayer

One Punch Man (Latest Season)

Tokyo Ghoul (S2)

Love, Death & Robots

Mob Psycho 100

Violet Evergarden

Sword Art Online (Latest Season)

Films

Knives Out

Apocolypse Now

Lion King Remake

Aladin Remake

Yesterday

Bohemian Rhapsody

Rocketman

Avengers End Game

IT (Chapter One)

Pokémon Detective Pikachu

The Lego Movie 2: The Second Part

Video games

World of Warcraft Classic - PC

Zelda: Links Awakening - Switch

Celeste - Switch

Grindstone - Apple Arcade

The Witcher 3 - PC

Gwent - PC

Mario Kart - Switch

Super Smash Bros Ultimate - Switch

Crash Team Racing Nitro-Fueled - Switch

Boardgames

Arctic Scavengers

Tak

Binding of Isaac

Between Two Castles of Mad King Ludwig

One Deck Dungeon

Call to Adventure

Welcome to the Dungeon

Azul

Schotten Totten

Lords of Waterdeep

The Mind

Lightseekers

Battle for Rokugan

Concordia

Cosmic Encounter

Concept

Roll Player

Vindication
I recently switched my media server from Linux Mint to Manjaro (KDE) and after two days here are my first impressions.
This Operating System is full of surprises! I love that I can snap my windows to either side of the screen the same way Windows does (Take a hint Apple!).
There's a significant amount of customisation available in the settings, which I'm still running through.
The UI is great and easy to customise. I have a semi Mac-like setup running in under 15 mins with no additonal packages needed.
My favourite mini feature so far is dragging directories between two windows shows a little pop-up with options to "Move/Copy". I think this is a really nice touch and something I have not seen in a Desktop OS before. Dolphin seems like a great file manager in general.
That's all for now.
We went to Somerset over the bank holiday for Kate's birthday. We stayed in an absolutely massive house, went to a bunch of places and did a bunch of things (descriptive, I know).
I had my first experience kayaking which was pretty fun - and no one fell in!
The weather couldn't have been any better. In spite of this we still managed to play a bunch of board games and video games (phew).
On the way back myself and Kat headed to Chedworth Roman Villa. A lovely National Trust place in Gloucester. They have a great audio tour guide which I highly recommend picking up to learn about the history of the place.
We went camping in Gower, near Swansea a few weeks ago and boy was the wind rough. More annoyingly, the wind mostly seemed to pick up as we were going to sleep! flap flap flap is pretty much all we heard.
Apart from the lack of sleep, we had a lot of fun with Kat's family. We went to a few National Trust places, including a long walk to Worm's Head, and a visit to Dinefwr. We also went to Swansea's Planetarium and had a quick tour of The Mumbles.
Myself and Kat stayed in Llanberis earlier this week with the smart idea of walking up Snowdon.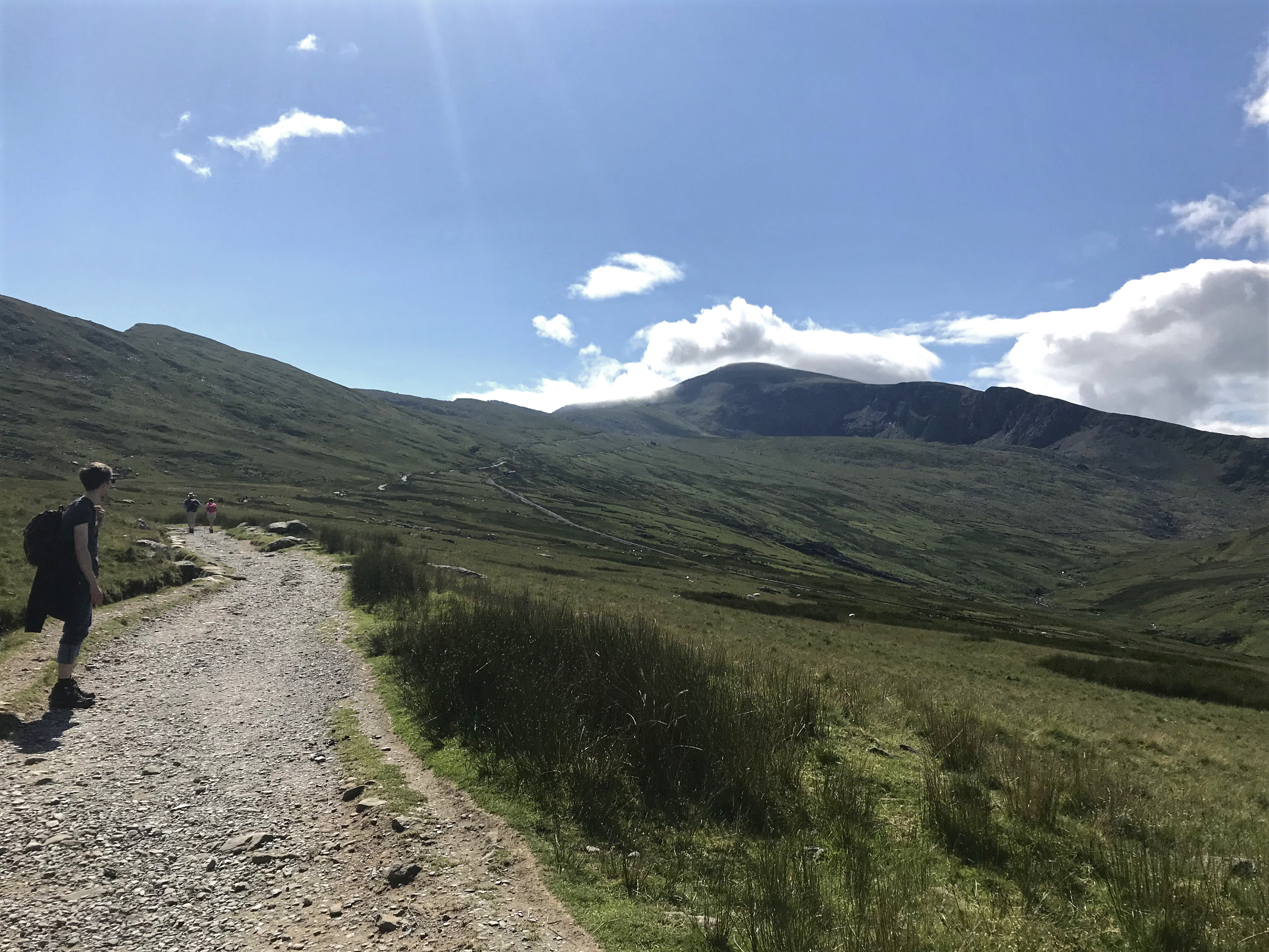 For those unfamiliar, Snowdon is the tallest mountain in Wales, and has several different paths that vary in difficulty and time. We took the easiest path, known as The Llanberis Path and I have to say, it was exhausting.
We made several stops, including at the halfway house, and even made some Canadian friends who were visiting for the Cricket World Cup.
The day was sunny with a few clouds and a nice cool breeze. There were some absolutely spectacular views on the way up, but unfortunately, towards the last 30 minutes or so we were mostly in the clouds. By the time we reached the top there wasn't much to see besides a long queue of people waiting to stand on the very tallest point of the mountain.
On the way down I became really ill. I attribute this to Acute Mountain Sickness. This probably isn't supposed to happen unless you're on much bigger peaks, but I'm using it as my excuse anyway. It felt like having an awful hangover. Fortunately, this went away as we neared the bottom.
Other highlights of the holiday include going to Plas Newydd, a National Trust house in Angelsey where we had a random session of Tai Chi - and spotted a red squirrel! We also went back to Bodnant Garden which is a long time favourite National Trust place of ours.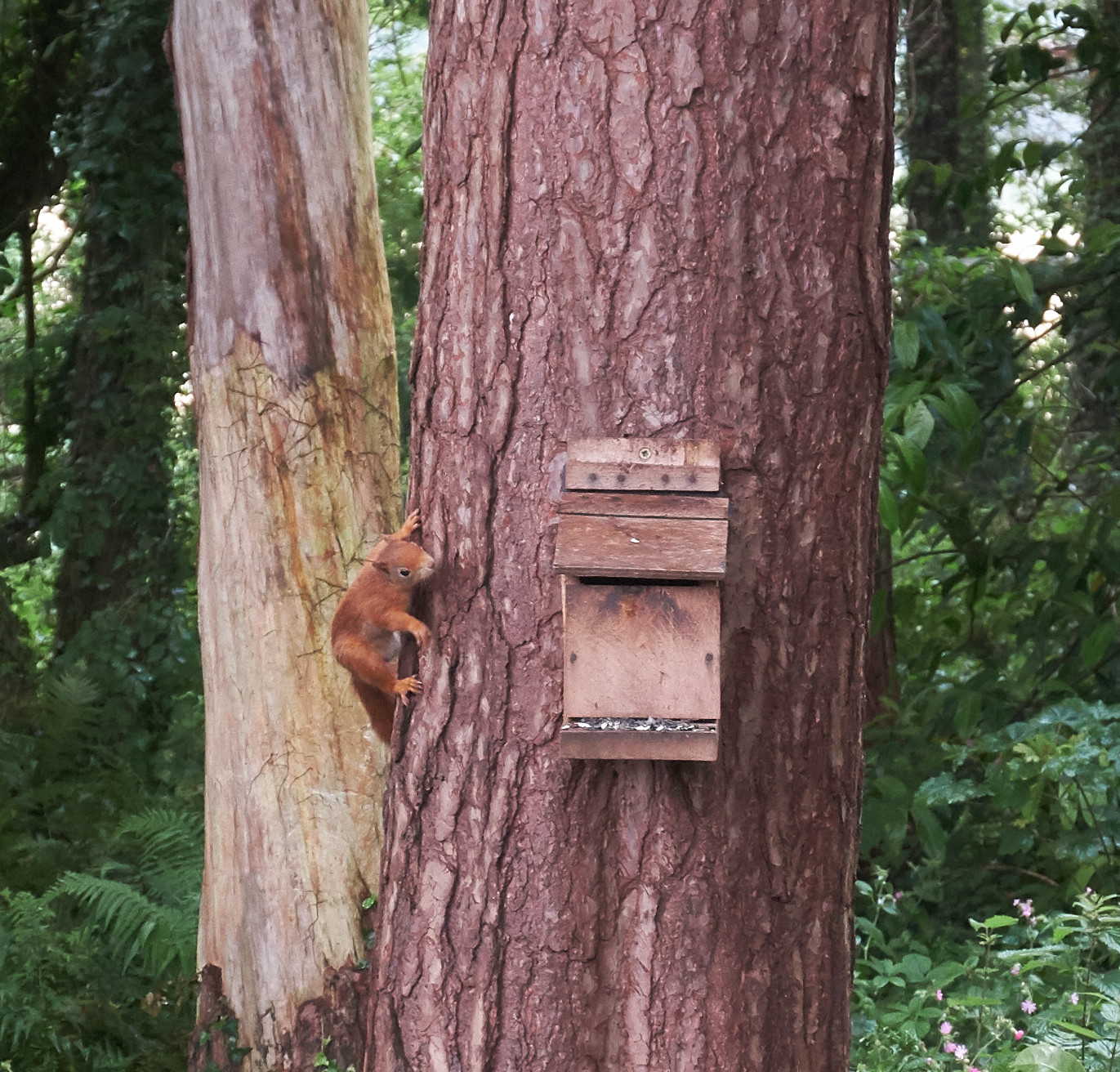 That's all for now.